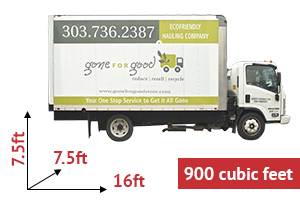 Gone for Good Truck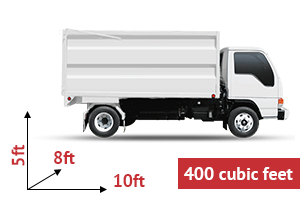 Average Junk Hauler Truck
Cleanout projects come in all different sizes. That is why Gone for Good offers 3 truck size options, so whether your project is small, medium, or large, we have a truck to fit your needs and your budget.  
---
How Much "Stuff" Can We Fit in a Truck?

Our packing experts at Gone For Good can help you estimate how much space you may need on a job, and are even insured to come into the home and remove it for you!
This video outlines a little of what the process of loading the truck looks like- as well as how our expert crew can take an estimated Full Load Box Truck into a 1/2 Full Load with with some creative packing.
---
Standard
Our Standard option is our most economical option. Keep your hauling fees low by placing your unwanted items inside your garage or on your driveway for easy pick up. 
Gold
If you have unwanted items in several locations within your home or office that have already been bagged or boxed up, our Gold option is the best choice for you.
Platinum
Gone For Good takes care of everything for you with our Platinum Package. We will box up and move your unwanted items for you, saving you both time and energy. Please let us know in advance if you need this service. With one call, the Platinum package takes care of everything!
---
Product/Service
Description
Cubic Feet
 Standard 
Gold
Platinum
16' Box Truck - Full Load

16' Full Truckload   

(Estimate 3 to 4 hours labor)

900
$750.00
$850.00
$950.00
16' Box Truck - 3/4 Full

3/4 16' Full Truckload

(Estimate 2 to 3 hours labor)

675
$625.00
$700.00
$775.00
16' Box Truck - 1/2 Full

16' Half Truckload 

(Estimate 1 to 2 hours labor)

450
$500.00
$550.00
$600.00
16' Box Truck - 1/4 Full

16' Quarter Truckload   

(Estimate 1 hour labor)

225
$300.00
$325.00
$350.00
---
Items outside of our normal scope may incur additional charges. This is because of the fees Gone For Good must pay to properly recycle or dispose of certain items. There are also additional charges for apartments, condos and businesses with stairs, as this adds to the total amount of time it takes to remove your unwanted items. Additional labor fees will be charged for work that exceeds the original time quoted.
Product/Service
Description
Standard
Condo or Apartment Fee
$50 for quarter load
$75 for half
$100 for 3/4
$125 for full
$50.00
Travel Fee
A flat fee applies to locations located beyond a 25-mile radius from Metro Denver
$50.00
Electronics Recycling - X Large
Large Projection Tv's
$125.00
Electronics Recycling - Large
50 to 75 pounds
$100.00
Electronics Recycling - Medium
25 to 50 pounds 
$75.00
Electronics Recycling - Small
0 to 25 pounds 
$50.00
Mattresses
Mattress Recycling
$30.00
Box Springs
Box Spring Recycling
$30.00
Tires
Tire Recycling fee (per tire)
$7.00
Crawl Spaces & Garage Rafters
Items located in these spaces incur an additional labor charge
$100.00
Additional Labor
Hourly rate for additional hours. 
$100.00